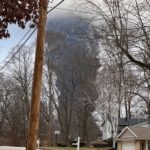 According to federal environmental authorities, contaminated waste shipments from the site of the train derailment earlier this month in eastern Ohio will resume Monday to two approved sites in the state. The announcement came a day after the Environmental Protection Agency ordered Norfolk Southern to pause shipments from the site of the Feb. 3 derailment in East Palestine, OH — near the Pennsylvania state line to allow additional oversight measures about where waste was shipped. Some liquid and solid waste had already been taken to sites in Michigan and Texas.
Region 5 administrator Debra Shore of the Environmental Protection Agency said on Sunday that EPA-certified facilities able to accept some of the waste had been identified, meaning that shipments could restart Monday. Shore said that some of the liquid waste will be sent to a facility in Vickery, Ohio, for disposal in an underground injection well, and Norfolk Southern will also begin shipping solid waste to an incinerator in East Liverpool, Ohio,  Additional solid waste disposal locations were being sought, adding: "All of this is great news for the people of East Palestine and the surrounding community, because it means cleanup can continue at a rapid pace."
No one was injured when 38 Norfolk Southern cars derailed causing a fire to erupt, but officials were worried about a potential explosion due to hazardous chemicals in five of the rail cars, causing them to evacuate the area. It was later decided to release and burn toxic vinyl chloride from the tanker cars. Federal and state officials have repeatedly said it's safe for evacuated residents to return to the area and that air testing in the town and inside hundreds of homes hasn't detected any concerning levels of contaminants, and the state says the local municipal drinking water system is safe. However many residents have expressed concerns about what they have been exposed to and how it will impact the future of their families and communities.
Anne Vogel, director of the Ohio Environmental Protection Agency, said that all of the rail cars – except for 11 cars held by the National Transportation Safety Board – have been removed from the site, which will allow excavation of additional contaminated soil and installation of monitoring wells to check for groundwater contamination.
Editorial credit: Orlowski Designs LLC / Shutterstock.com