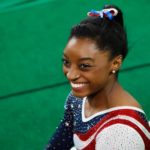 On Thursday, four-time Olympic gold medalist Simone Biles was named TIME Magazine's Athlete of the Year.
The 24-year-old gymnast made headlines after temporarily withdrawing from the Tokyo Olympics and sparking conversations about athletes' mental health. After dropping out of the opening event, citing a case of the "twisties" (a dangerous version of mental disorientation where gymnasts lose their sense of direction mid-air) and concerns for her mental health, Biles later returned to the competition to win a bronze medal on the balance beam.
Biles showed another act of courage when she appeared before a Senate Judiciary Committee in September to testify about her experience as a survivor of sexual abuse by Larry Nassar, the former team doctor who is serving up to 175 years in prison for multiple sex crimes. She and other gymnasts attended the hearing on the FBI and USA Gymnastics' mishandling of the Nassar investigation.
Editorial credit: Salty View / Shutterstock.com