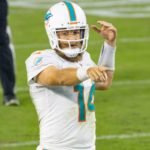 Washington Football Team quarterback Ryan Fitzpatrick will undergo arthroscopic surgery on his injured hip Tuesday, which will end his 2021 season. The 38-year-old, whose contract expires after the 2021 season, suffered the injury in a Week 1 loss to the Chargers.
Fitzpatrick, a 17-year veteran quarterback, was only in his first season in Washington before sustaining the hip injury. He only went 3-of-6 passing for 13 yards before going down against Los Angeles. Washington is Fitzpatrick's ninth team in the NFL.
Taylor Heinicke has filled in for Fitzpatrick since then, guiding WFT to a four-game winning streak. The team currently sits sixth in the NFC playoff standings.
Editorial credit: davrilg / Shutterstock.com